Volunteers
The Southern Ontario Orchid Society show is run by volunteers. We need your help to make this show happen.
Volunteers will receive an "
orchid bag

" in which to carry home purchases.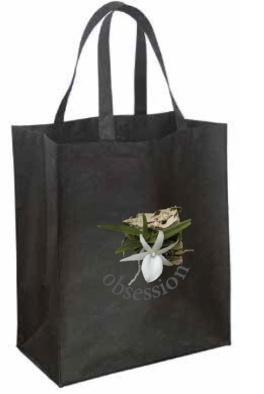 Please send an email to the ✉ Volunteer Co-ordinator with this information:
Your Name
What you want to help out with, what kind of job you want to do?
When would you like to help out?
Please give a second contact method, like a phone number.
To find the most suitable task, it would help to know if you have any special needs or abilities such as needing a job where you sit down, or not being afraid to climb a step ladder to hang a sign.
♦ ♦ ♦

We are in particular need of help with

Security

,

Clerking

and

Kitchen Help

♦ ♦ ♦
There are a number of opportunities available on Friday, Saturday and Sunday in many different areas like:
Security
Kitchen
Set-up/tear-down
Clerking
Many of us are at the show ALL THE TIME. We need assistance in these vital areas. If you can spare a few hours to help us out, you will be given free addmission to the show.
Shifts are usually 2 or 3 hours long.
Job Descriptions:
Security: We enjoy a great turn out at our show. With so many people milling about, we need a few good people to be stationed in key areas to help guide people and answer questions ( "Where are the washrooms? ). Also we need to keep an eye on the displays to make sure nobody gets too close that they might damage one of the treasured blooms. Helping with admission ( selling tickets/stamping hands ) also is covered by Security.
Kitchen: Like an army, the SOOS show marches on its stomach. With vendors and volunteers putting in long hard hours, we need to have a constant source of refreshement. Out kitchen coordinator needs help refreshing our perpetural buffet, making coffee and of course, washing dishes. There is always great satisfaction to be had from providing a good meal to a weary orchidist.
Setup and Tear Down: All day Friday ( and maybe Thursday night ) we need help putting up the tables, signage and table clothes. Also, exhibitors arriving on Friday appreciate a helping hand unloading their vehicles as quickly as possible to protect the plants from winter's fury and to keep things moving in our cramped loading dock. This is an excellent opportunity to watch the show take shape. Of course, after the show closes on Sunday, we need help putting it all away. It doesn't take too long. Many hands make light work.
Clerking: At the crack of dawn Saturday morning, the judges convene in solemn conclave to decide the merits of our nearly 1000 entries. ( actually its more silly and frantic than solemn ) Over the course of a few short hours, teams of learned orchidists mull over the merits each bloom and pronounce which is the cream of each of over 100 classes. To accomplish this, they need the help of many clerks who offer support to their endevours. Clerks record the judges decisions and make sure the right ribbon gets on the right plant. Things move fast so you need to be on your toes. This is the greatest opportunity to learn about orchids, their many forms and culture. If you are new to orchids, this early morning adventure is well worth it. This happens Saturday 7 am to 10 am.