We are so sad to announce:
The February Annual show and sale 2022 will be cancelled because of the social distancing rules during COVID19 pandemic.
Annual Southern Ontario Orchid Society Show 2020
This poster will be switched between English and Chinese version every 10 seconds.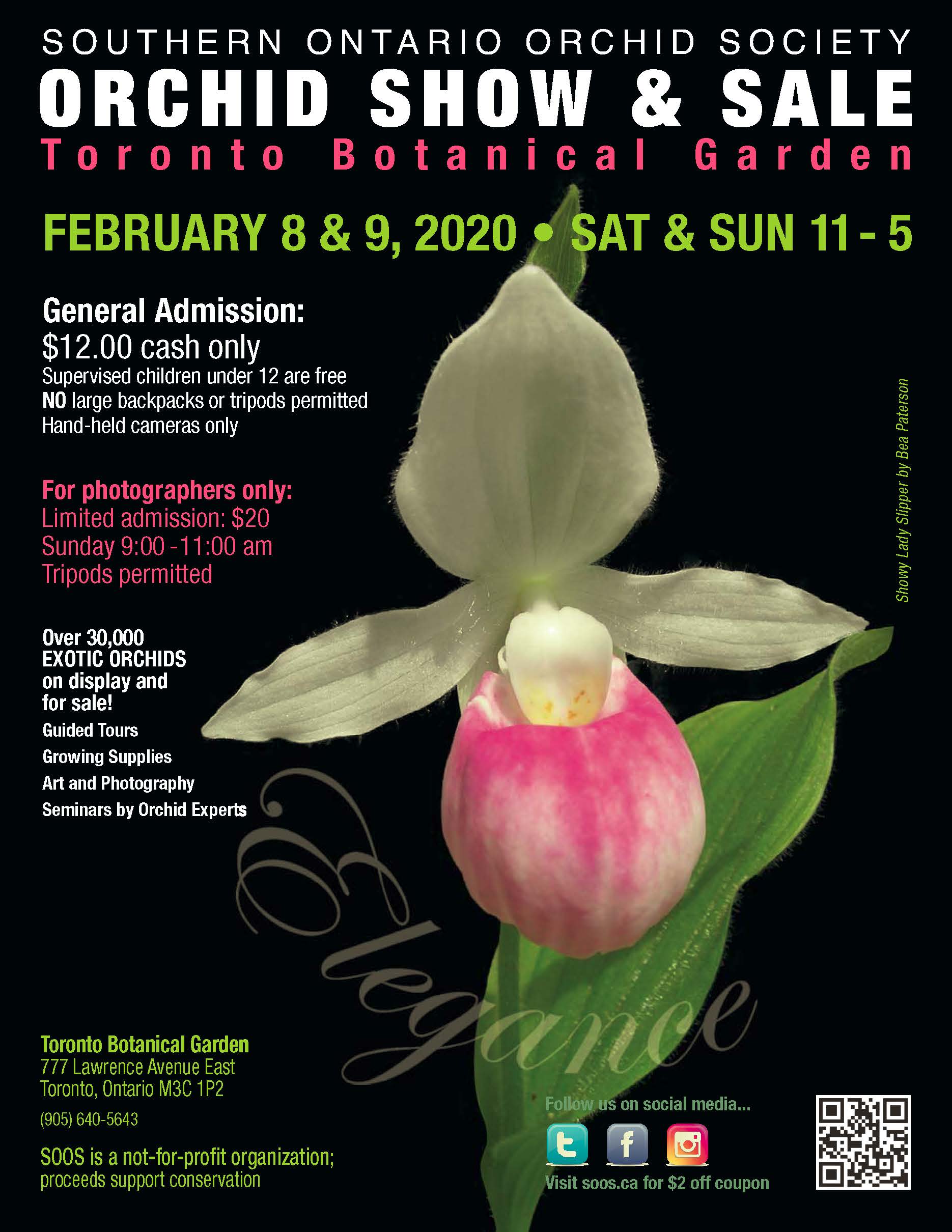 Admission:
Adults $12.00
Children 12 and under Free
( HST included - Cash Only )
Date: Saturday & Sunday, February 8th & 9th, 2020
Time: 11:00 am - 5:00 pm
Purchase tickets for Admission
Location:
Toronto Botanical Garden
777 Lawrence Avenue East, Toronto, Ontario, M3C 1P2, Canada
Photographer session ( tripods permitted ) seperate admission ( $20 ) :
February 9th, 2020
Sunday 9:00 am - 11:00 am
Purchase tickets for Photographers' session
For Out of Town Show Visitors
Welcome to Toronto
Below is a list of restaurants that are within minutes of the Toronto Botanical Gardens.
OVER
30,000

ORCHID BLOOMS!
9,000 sq. ft. of Orchids
♥

Artistic Displays

♥

Orchid Plants For Sale
Gift Items
♥

Art & Photography Displays

♥

Guided Tours & Free Seminars

♥

Tea Room

♥

Youth Program (Sunday afternoon)

We are delighted to announce several initiatives geared towards youth at the Show:
A youth program on Sunday afternoon. Come and go as you like. Orchid centered activities will include:

making Valentine's Day cards and stamping crafts;
orchid colouring pages;
card matching games.

Henna painting by Bea. Henna by Bea will be in the Art and Photography area both days.
Kelvin Sue will be exhibiting his artwork in the Floral Hall. Kelvin is a young artist based in the Toronto area.
There are ribbons and a trophy to be awarded for orchids entered by

Junior Growers

who are under 19 years of age and who have been growing the plant for at least six (6) months.
And if it is the first time that the

Junior Grower

has ever entered a plant into an orchid show, the plant can also be entered into the Novice Class.
Information about Orchid Show